Coronavirus Information
Coronavirus disease 2019 (COVID-19) is a respiratory disease caused by the virus Severe acute respiratory syndrome coronavirus 2 (SARS-CoV-2). Known to most as the coronavirus, it is contagious in humans, but is believed to have originated in animals. The most likely origins are bats, pangolins, and civets, where very similar viruses are found — its origin is the subject of many current research efforts. Unless preventative measures are put in place, each person infected with this virus will infect between 1.4 and 3.9 other people. For example, an infected person is very likely to infect others inter household. In densely populated areas, such as New York City, the virus spread rapidly. As of April 26, 2020, New York state has 30% of all COVID-19 infections in the United States. Spread of COVID-19 is primarily from respiratory droplets from coughs and sneezes. The image shows the virus from an electron microscope (credit: NIAID-RML).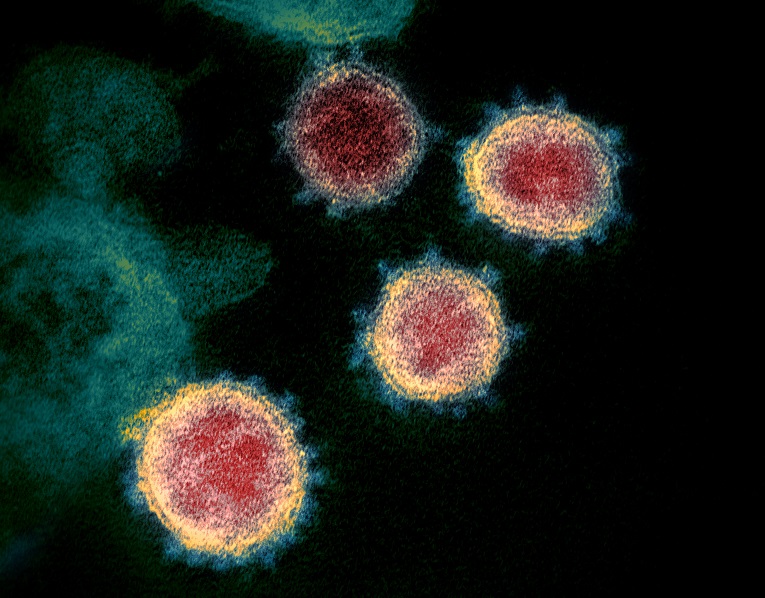 Social distancing is being used worldwide as the primary technique to reduce the spread of COVID-19. This has had a devastating effect on the world economy, on the United States economy, and on tourism dependent economies such as Hawaii, which now has the highest rate of unemployment in the United States. Hawaii has imposed a 14-day quarantine on all persons entering Hawaii, which is intended to deter visitors. Some level of social preventative measures, including wearing face masks, is likely to be necessary until a vaccine is produced and widely administered to the population.
The United States has the largest number of COVID-19 infections of any country in the world, with 32% of all cases, more than 4 times as many as Spain. Other European countries such as Italy, France, Germany, United Kingdom, and Turkey also have large numbers of infections. Russia and Brazil are both experiencing rapid growth in infections.
The 1-week rate of change shown in the Countries and United States pages provide important insight into which countries and states are experiencing rapid growth of COVID-19, and which have better controlled the infection. Some African countries are currently experiencing rapid increases; South Africa has over 130,000 cases, with a weekly growth rate over 40%. Some South American countries now have many cases, with Brazil hardest hit, followed by Peru, Chile, Colombia, Argentina, and Ecuador, with rapid growth occurring in most of these counties. The number of cases in Mexico is also growing rapidly. Although it experienced few cases early, Russia now ranks third in total number of cases, but will likely be passed by India, where growth is more rapid. Other South Asian countries, including Nepal. Bangladesh, and Pakistan are also hard hit. China, Ireland, Taiwan, Thailand, and Malaysia, are all notable for their slow rates of growth.
In the United States, Florida, Arizona, South Carolina, Texas, and Idaho are currently experiencing the most rapid growth. Connecticut, New Jersey, and New York, three states that were hard-hit early, now have the lowest growth rates, with cases growing by a little over 1% per week.
Note: This page is not intended to be a definitive source of information on SARS-CoV-2, and there are many more sources of information.